Explore our new community, hosted by US on our website
for 50+ recipes with more added weekly,
cooking demos, expert interviews and more!
---
A tasty little side dish for dinner our an appetizer on their own. These beauties are mouthwatering good.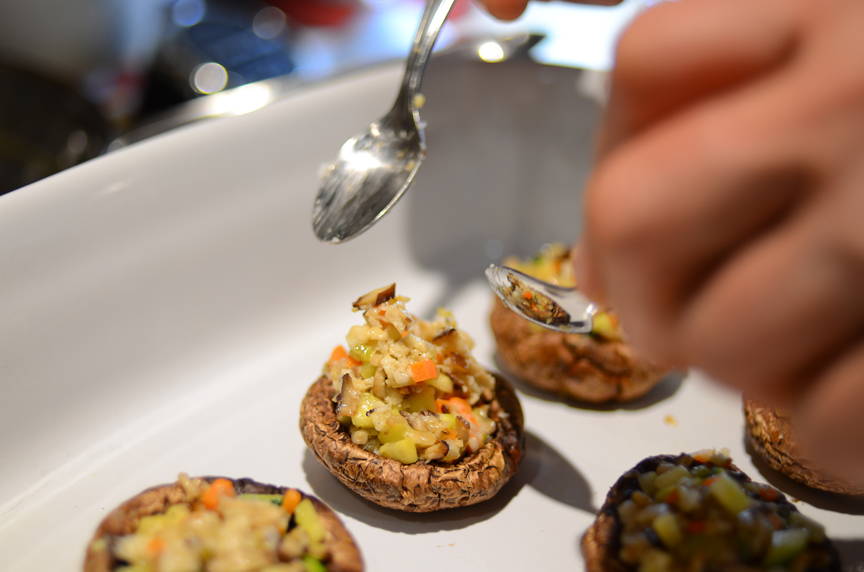 If you like mushrooms, you will love these delectable little morsels.
This recipe uses our No.2 Battuto and No.1 Duxelles blends.
Prep Time: 15 min
Cook Time: 30 min.
Total Time: 45 min.
Servings: 4 (more if they are an appetizer)
Ingredients
8 large mushrooms, stem removed and finely diced
Filling
1 tsp. No.2 Battuto

1 tsp. No.1 Duxelles

1 Tbsp. finely diced celery tops

2 glugs of vermouth

2 Tbsp. Parmesan cheese

Pinch of salt

1/8 c. toast, crumbled into fine bits
Preheat oven to 300 degrees

In a bowl, mix all filing ingredients together

Place mushroom caps upside down in an oven proof dish

Fill caps tightly with filling

Bake for 30 minutes or until mushrooms are cooked and filling is golden brown.
  Serve as a side dish or appetizer! YUM!
Oomph Hack #3:
Bloom Oomph and top your baked potato.
Meatballs are versatile and super tasty when Oomph is inside!
Boost the Yum factor using Oomph with this classic 3-meat meatballs recipe. Its a bold move that can deliver a heart warming victory at the table.
As a stand alone these are simply delicious. Your choice of any the Oomph blends inside will help you deliver crowd pleasing tastiness. Our top choice to use are; No.4 Refogado, No.1 Duxelles blend, No.3 Sofrito blend and No.6 Shiitake Umami.
Prep Time: 15 min.
Cook Time: 40 min.
Total Time: 55 min.
Servings: 6 - 8
Ingredients
2 lb. ground beef & 1# pork & 1# dry aged beef

2 Tbsp. of any Oomph Cooking Blend

3 eggs

Salt & Pepper

3 Tbsp. chopped fresh parsley

3-4 slices day old bread

1c half-in-half + 1c Milk

3/4 c. grated pecorino Romano

Juice of 1/2 lemon


Olive oil
Preheat oven to 375 degrees.

Soak bread in milk & half-n-half

In large bowl, salt & pepper 3 meats

rinse, wash, chop parsley, add to mixture

Evenly dust meat with 2 Tbsp. Oomph (your choice) work it in with hands

Remove bread from milk, ring out then crumble into mixture

Whisk eggs and fold into mixture

Shape into balls and fully brown in skillet with olive oil

Put in low dish in oven for 15-20 minutes
Serve with mashed potatoes, fries or steamed vegetables and gravy.
Pretty and Tasty. This is a great dish to serve for guests or to treat yourself to a fun and visually interesting meal!
Roulade is just a dish served in the form of a roll. We are rolling up some yumminess in this recipe.
Remember, any Oomph blends would be delicious in this recipe! If you don't have the one we suggest on hand, try one you do have.
Prep Time: 10 min.
Cook Time: 1 hr.
Total Time: 70 min
Servings: 4
Ingredients
6 mushrooms sliced into thin batons

2 Tbsp. fresh parsley

1 scallion thinly diced

4 tsp. Oomph No.1 Duxelles Blend

2 inches of bacon cut from full 8oz slab

1 piece of crusty bread

2 Tbsp. of butter

2 Tbsp. micro planed sharp cheese

1/2 tsp. pepper
Cook bacon until crispy then chop into bits

Use bacon fat and 1 pat butter to cook mushrooms

Crush toasted bread into crumbs

Bloom Oomph Duxelles with 1 pat of butter

Add all filling into bowl and toss until well blended.

Add a solid scoop filling on flattened thigh then roll and toothpick

or lasso with cooking twine
Cooking
In skillet that bacon was cooked add a knob of butter and brown exterior

of roulades

Make sure to get great color on all sides.

After browned add to baking dish and cook at 325 for 20 minutes

and bring chicken to temperature 165 degrees
Serve over rice, with a simple sauce and vegetable side.